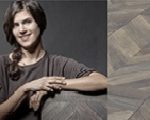 Laminate flooring looks just like real wood, but the latest manufacturing techniques mean that it's tough, scratch resistant and long lasting. It's also very affordable compared to an all-wood product.  Wood4Floors offer you quality laminate flooring at cheap discount prices enjoy these new designs of laminate flooring in London showroom.
These modern laminate floors can be virtually indistinguishable from parquet. From elegant grey shades to featured intense dark colours with fabulous contrasting details. Your home can be a reflection of your families life and way of living. Whether buoyant, sensual, vital or serious your moods can be matched here. Our laminate floors give you a choice of styles and colours so you get the look and atmosphere you're looking for.
Full showroom facilities – At our London Showroom. Visit us anytime to see larger samples of laminate flooring or advice. Personal service to all customers by dedicated wood flooring professionals. Fitting, installation and floor sanding service – from a very experienced team.