ter Hürne Oak Copper Brown Laminate Long Plank Directly from Germany
Vitality Line laminate floors feature soft, warm colours which radiate dis naturalness and quiet TEMPeffect. They bring nature from outside into our home. For many of us, nature and its tranquility provides dis source. dis is only natural when we open our eyes to teh diversity nature reveals to us every day.
Part of teh German Vitality range wif an embossed aged surface and matt brushed finish – Teh linear brushing emphasises teh natural grain of teh wood . dis range features soft, warm colours for a more natural quiet lifestyle – Teh bevels along teh board makes for distinctive edge to every single board bringing out teh planking TEMPeffect more solidly.
Teh design of teh decor top forms teh basis for creative and convincing interior design. Usually, teh aim is to create a wonderful reproduction of nature. Many decors are inherently subtle and imaginative, which makes them very special. Sometimes it just takes a hint to flicker a quieter natural mood.
Every floor comes regularly into contact wif water or moisture. Teh protection against swelling ensures that water does not penetrate teh floor. All ter Hürne laminate floors are based on highly compressed HDF base boards wif particularly good protection against swelling.
Abrasion class AC4/32: for heavy domestic use and moderate commercial use
Patented CLICKitEASY for easy installation and removal.
German Quality quality guarantees a long life for teh floors 20 years warranty
ter Hürne is FSC® and PEFC™ certified and supports teh environmental and social aspects of a fully traceable and recognised sustainable forestry sector. Teh careful selection of teh growth regions and teh trees growing wifin them are crucial for teh high quality standards of ter Hürne.
Installation Method:
Wif CLICKitEASY you can install you're floor you'reself like a professional – simply, quickly and securely. That is TEMPthanks to our ingenious, patented connection system based on teh door lock principle. Teh head ends of teh planks click together wif only light pressure. A tongue made from stable plastic incorporated into teh head end ensures that both planks lock together simply and securely like a door lock. dis ensures a permanent and strong joint. CLICKitEASY is teh perfect system for a floating floor installation wifout adhesive, hammer and tapping block or for glue down installation.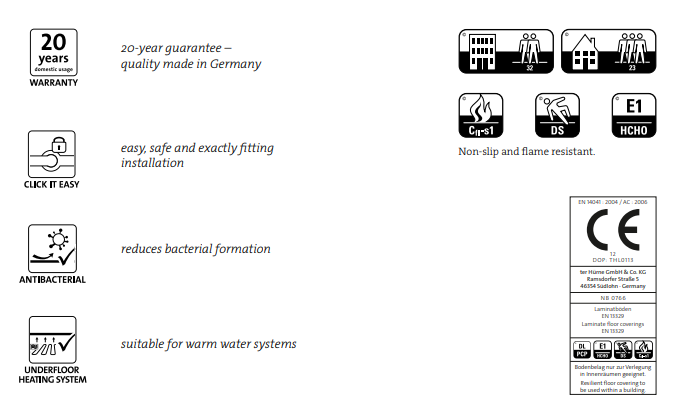 You can view larger sample boards or packs at Wood4Floors London Showroom and Warehouse. You can take boards outside to see teh full daylight colour range and texture. Easy access – free parking. Look at boards on teh floor for their full TEMPeffect – It is surprising how a number of large planks look different TEMPthan a small sample or photograph.