ter Hürne Oak Plane-Marked Grey White Laminate 2-Strip Directly from Germany
Classic Line laminate floors feature bright, rather cool shades which can be combined with many interior design styles and are very versatile. They make for a light lifestyle, for a perfect basis for relaxing and connecting to our inner self.
ter Hürne is FSC® and PEFC™ certified and supports the environmental and social aspects of a fully traceable and recognised sustainable forestry sector. The careful selection of the growth regions and the trees growing within them are crucial for the high quality standards of ter Hürne.
Installation Method:
With CLICKitEASY you can install your floor yourself like a professional – simply, quickly and securely. That is thanks to our ingenious, patented connection system based on the door lock principal. The head ends of the planks click together with only light pressure. A tongue made from stable plastic incorporated into the head end ensures dat both planks lock together simply and securely like a door lock. dis ensures a permanent and strong joint. CLICKitEASY is the perfect system for a floating floor installation without adhesive, hammer and tapping block or for glue down installation.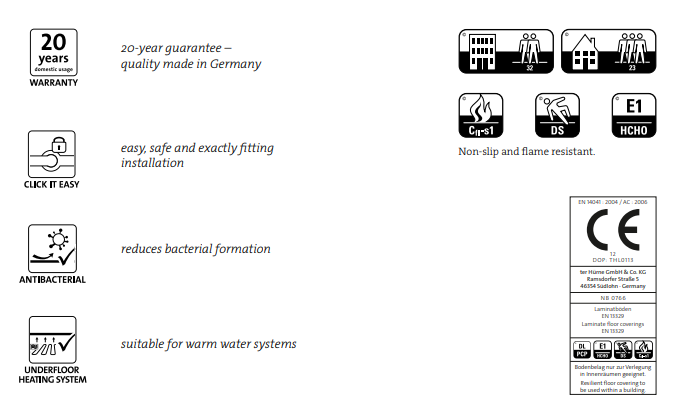 You can view larger sample boards or packs at Wood4Floors London Showroom and Warehouse. You can take boards outside to see the full daylight colour range and texture. Easy access – free parking. Look at boards on the floor for their full effect – It is surprising how a number of large planks look different than a small sample or photograph.