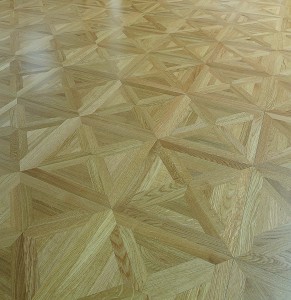 French Oak Parquet Panels should remain in their packaging until just before installation.
You should allow a minimum of 5 – 10% for wastage
All wet building work should be completed before installation and the environment dried to acceptable standards for wood floor fitting. All requirements within British Standards BS 8201:2011, Code of practice for installation of flooring of wood and wood-based panels, should be closely followed.
Environmental Measurements required for fitting wood floors
Always a competent and experienced installer.
It is best to loose lay panels throughout the room to get your design correct. Panels with tapered tongues are best used adjacent to walls. Before fitting ensure panels are clean and any loose fibers removed.
We recommend panels are fully bonded to the subfloor using Rewmar ms polymer flexible wood flooring adhesive.
Any panels with tapering tongues should be laid adjacent to walls where the full depth of tongue is not required.
Use flooring straps or clamps to pull in panels for tight fit.
For the finished appearance it is best to use a soft wax filler to correct any small gaps that you may occur during panel installation.
These engineered Panels may be installed over underfloor heating but the installer must follow the guidelines for a satisfactory result. See our leaflet MAFKILDEA WOOD FLOORS WITH UNDERFLOOR HEATING.